Absolute scenes from the Essex crew...
It takes a strong type of lady to make it to global meme status.
It takes an even stronger type of lady to manage to call meme's 'memay's'.
We give you, the one and only Gemma Collins.
A woman so magical, she makes unicorns look like they need a good ol' coating of fake tan and a night down Sugarhut.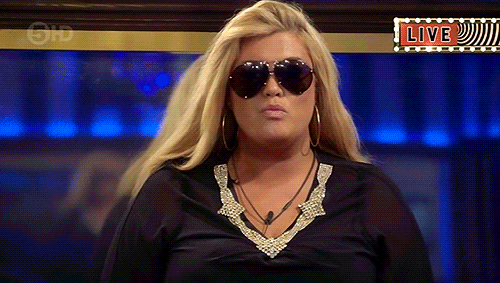 And it would appear that magical unicorns aren't the only things that should be avoiding the GC – as her fellow TOWIE cast had better watch their backs too…
In fact, TOWIE gal Amber Dowding had recently taken to social media to warn fans of the GC wrath, having shared a video of Gemma getting rowdy with a certain Essex fella…
See: 'I'm very fond of him': TOWIE's Gemma Collins speaks out on new romance after sparking speculation with loved-up pics
In the video Amber uploaded to Instagram Stories – which she captioned 'Don't f*ck with the GC' – Gemma can be seen jokingly (we hope) sizing up to her co-star Tommy Mallett as the pair involve themselves in a good ol' street brawl.
E.g:
Yup… absolute scenes from the Essex crew. Maybe he finally revealed the word 'memes' isn't pronounced 'meymays'?!
See: Gemma Collins: 'I'm so bored of people talking about my weight!'
Whilst the pair (and onlooker James 'Arg' Argent – did you spot him!?) look like they were just having a bit of a laugh, it's fair to say that Tommy Mallett is not the first member of the TOWIE gang to feel the wrath of Gemma however.
In fact, Gemma had found herself in a lil' tiff with long term pal Bobby Norris during a recent episode of TOWIE after she had yawned in his face. Dramz!
During the episode, Bobby was speaking to Gemma and their pals Mike, Georgia and Tommy about his important meeting with book publishers taking place the next morning.
And, whilst this is pretty exciting news for our Bob, GC had let her mind wander- leading to her yawning in front of Bobs. Yikes!
After confronted by Bobs as to if she was bored, Gemma had tried to smooth things over- replying 'No, it's cause of all the shopping Bob. Sorry I am listening. I'm not yawning on purpose'.
Lets hope the pair managed to smooth things out without the Tommy Mallett treatment, eh folks?!
Alice Perry