Prepare for A LOT of tears
Forget eating pigs brains and lying in a cave full of snakes, this year's I'm A Celeb has been one of the most entertaining yet not just because of the disgusting Bushtucker trials, but because of the seriously cute friendships formed.
After an unlikely bromance between the men in camp and the bonding of Carol Voderman and erm… a toad, the jungle loving was stepped up another notch in Wednesday night's instalment as the celebs received letters from home.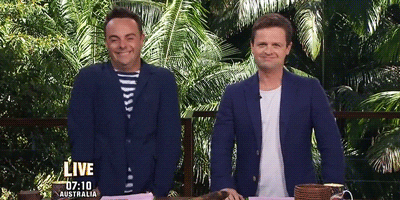 Thanks to a successful after-dinner game each star won a message from home and after almost three weeks away from their loved ones, it's safe to say the evening ended with A LOT of crying and hugging.
Who will win I'm A Celebrity 2016? All the contestants, broken down…
Footballer Wayne Bridge was first up to read his message from wife, The Saturday's singer Frankie Bridge who had to break the news that he'd lost his space in bed to their three-year-old son, Parker, writing:  'You've officially lost your space in our bed as Parker has made himself very comfortable but after sleeping in the jungle I'm sure the floor will be just fine for you – ha! I couldn't be prouder to call you my husband, I'm so pleased to see that people now know the amazing person that you are and not forgetting, exactly what our sex life is like!'
LOL.
Things got emotional in a message from Larry Lamb's son, George Lamb which read: 'You are doing great out there buddy, it's lovely to see you in your natural habitat at last…super proud of you Papa, keep doing what you're doing, we love you.'
Aww.
Gogglebox star Scarlett Moffatt also got a cheeky message from her boyfriend Luke who told her that their dog had got so excited watching I'm a Celeb, she'd wee'ed on his Mum's leg… Oops.
And it seems like we aren't the only ones cringing at controversial jungle campmate Martin Roberts' awkward attempt at tree-hugging as his wife, Kirsty wrote: 'You've given us so much entertainment, you've had us shouting at the telly, laughing and cringing and crying. Enjoy the nature…enjoy the trees.'
Things got very teary when Tom, Sam's boyfriend wrote: 'I am missing you so very much, the saddest thing about this whole process is that the one person I would want to talk about it with and laugh about it with isn't lying next to me, she's on the TV in front of me…learning how to catwalk from Lisa Snowdon! I can't stress enough what a brilliant ambassador you are, clubs up and down the country message daily saying how fab you are doing, see you at the end of the bridge."
Cute.
The other moving message came from Adam's fiance, Caroline: She wrote: 'Teddy [their son] is missing his Daddy more and more each day, he watches you on his 'Pie' and is so excited to show anyone around that the rugged looking man in the jungle is his Daddy!!  We are having the most amazing time at the Versace, but are so sad to be missing the 3rd Member of our team, we are totally lost without you! I love you more than you will ever imagine and I am so proud to be your girl!  You have well and truly smashed the first chapter of your adventure, just continue to be the cheeky joker but loveable Adam you are!'
Carol's daughter, Katie, wrote: 'Sending so much love Mum, keep smiling and being your bubbly self, you are fab, we are cheering you from the sofa, go mum!! We are missing you and can't wait to have you home, love you.'
With all that emotions were definitely running high in camp.
 Maybe another disgusting trial might take their minds off it, fermented egg smoothie anyone?