The Sugar Free Farm is back and TOWIE's Gemma Collins is taking the leap of faith to being sugar free...
Gemma Collins is best known for trying every diet under the sun, but now she is following in her TOWIE friend Arg's (James Argent) foot steps and going sugar free on the ITV show Sugar Free Farm. The 15-day challenge will see Gemma and other well known faces be hidden away in the Hampshire countryside whilst living and working on the farm. This could be PRICELESS…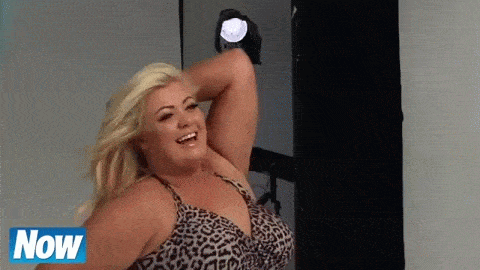 Hi Gemma! Did you watch the first series of Sugar Free Farm?
I did watch it, because obviously Arg (James Argent) was in it, and before I went onto the farm I gave Arg a quick call and he said that he'd really enjoyed it and he thought that I'd enjoy it.
What appealed to you about taking part in the new series?
I was looking for a new adventure, and the chance came up to do Sugar Free Farm, and I thought, how lovely to get away from Essex for a couple of weeks and live rural life. That's the reason, I thought let's try something new.
Had you been on a farm before?
The only time I'd stepped onto a farm before this was a day trip with school, so it's not something I make a habit of, I'll be honest. So I probably hadn't been on a farm for 20 years.
How does life on a farm compare to life in Essex?
Farm life is very different to Essex. One, none of the women wear make-up. Two, none of them have highlights. Three, none of them have fake tans. Straightaway I felt like I was around aliens. Literally, I thought farm life was for aliens, and I was just waiting for the UFOs to start coming down.
When we first started I didn't realise we had to work on the farm. So one afternoon, when the farmer is telling me to bash nails out of a fence, I mean, I don't have any strength in my hands whatsoever, I started thinking, no, this ain't normal. The farmer kept shouting at me, 'Gemma, do it, do it,' and then the Producer came up to me and said, 'Gemma, I don't think you realise you're here to actually work.' So I nearly had a breakdown there and then, and I asked them to call my agent, but swiftly realised I'd just better keep my mouth shut and get on with it.
Were you hoping for a farm romance?
I thought farm life was going to be full of Dallas-style cowboys, so that was an incentive for me going on to the farm. When I realised they were toothless, very weathered, because they're outside all day long, my love affair of becoming a farmer's wife swiftly ended.
MORE: Gemma Collins lost 11lb in one month by giving up just ONE thing!
Did you get on with the other celebrities?
I knew Alison from This Morning, we've always had a laugh when we'd met each other. I fell in love with Joe Pasquale. I would ask him to tell me some of his showbiz stories, because he's met a lot of people, and he's really lovely to talk to. Stavros and Lagi, they were alright at first, but they swiftly got annoying. I don't think they got the concept of the show. I didn't have much to do with Peter, I don't think he'd ever met anyone like me. He couldn't quite work out what I was, who I was and how I was. Ann Widdecombe, I love that woman. I said to her she could come to Essex any time and stay with me. I genuinely felt like Ann was my grandmother. She is so sweet, and so intelligent.
What was your diet like going into the farm?
I was addicted to energy drinks and diet cola, and being so busy you just grab and go. I just went into Sugar Free Farm with an open mind, and at first I was actually saying this is too much food that we're eating, there's no way we're going to lose weight, but I ended up losing 11 pounds on the farm. What was so amazing is that if you cook from scratch you can eat so much food and lose weight.
What did you do on the farm?
I did everything! I did trout catching, milked baby buffalo, silaging, potato picking, I caught chickens, I washed chicken sheds. I fed pigs. You name it, I did it. If I could go back tomorrow I would. I had nothing but a good experience, I loved it. It was a massive education and I took a lot away from it.
Have you kept anything up since leaving Sugar Free Farm?
As I've said, I had a real obsession with energy drinks, at one point I thought I was going to have to get hypnotised to get off it, I'd get through 10 cans a day, four diet colas. I'd have an energy drink for breakfast. But since I left the farm, I don't buy diet colas, if I go out I may have one diet cola, but I prefer to order water now, and I don't touch energy drinks. I look at them now and think I can't believe I used to drink that. Also, I've been using a slow cooker quite a lot.
Sugar Free Farm starts Tuesday 10th January 2017, 9.00pm, ITV