Goody could go to India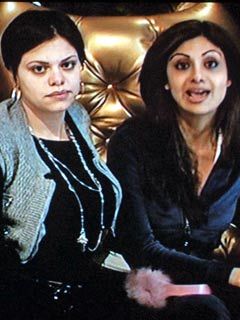 Jade Goody is planning to go to India in an attempt to smooth over relations after her behaviour on Celebrity Big Brother.
The 25-year-old reportedly visited the Indian High Commission yesterday to get a visa for the goodwill trip.
Jade is desperately trying to save her career after her bullying and alleged racial jibes aimed at Bollywood star Shilpa Shetty sparked an international storm.
'I'm thinking of going there because I've been invited,' she told Five TV host Matthew Wright. 'I don't know who by but they are high up people. I've also been told by people there that it's completely blown out of proportion.'
But the trip could be too little, too late.
Yesterday Living TV confirmed they would no longer be working with the shamed star – who's made three series with the channel in the past two years.
A spokesman told the Daily Mirror: 'There's nothing in development or in the pipeline, we've no plans to work with Jade at present.'