The glamour model is considering another change
Katie Price has seen a lot of changes in her life recently, what with the drama of her split from Kieran Hayler, and now she's considering another big switch-up by having ANOTHER boob job.
Yep, the mum-of-five admits that she's thinking about going under the knife once again as she believes her assets might be too big following her decision to have larger implants last summer.
MORE: Katie Price forces cheating hubby Kieran Hayler to stand up on tour
'They are so big at the moment, I might go smaller,' says Katie, 39.
'I should just leave them alone really. When you first have a boob job, I looked down and they didn't even look big.
'They always say be sensible but you get used to them being that big and then they shrink.'
Despite thinking about having yet another procedure after many ops on her boobs over the years, Katie has denied that she's hooked on plastic surgery.
'If people want to say I'm addicted they can say it,' the glamour model tells The Sun. 'But I'm not.'
It comes just over a year since Katie unveiled her bigger bust on Loose Women, having previously removed her implants in 2015 following medical complications.
This left her with a naturally smaller chest but she explained on the ITV show last year that she decided to go larger again on an impulse.
'I was all healed and ready for the final procedure on my boobs,' Pricey explained. 'The surgeon said to me, "What size do you want? Same implants, a little bit bigger or bigger?"
'And me being impulsive, I just went, "Oh go bigger then!" Maybe it's the Gemini in me. Normal size they put in is like a 275(cc) or a 375(cc)…
'Mine are a little bit bigger than that, they're 1050. But my body is used to it, I have been bigger.'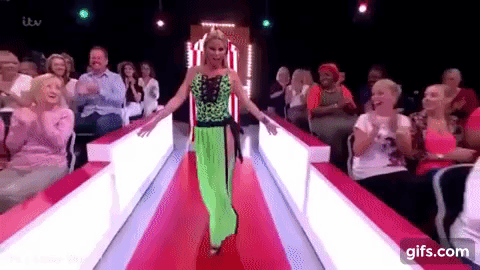 Katie's shock news comes at a dramatic time in her life following her claims last month that husband Kieran had a year-long affair with the nanny.
The TV star even got revenge on him during a Swindon show on her tour over the weekend by making him stand up in the crowd, causing the audience to shout 'w***er' at him.
But when a member of the audience asked Katie if she was going to take him back, she remained coy.
She said simply: 'I'm not talking about that.'
One thing's for sure, Katie's never far from drama in all areas of her life…