The mum-of-five shared an incredibly emotional story
Katie Price might have her fair share of critics but her latest appearance on Loose Women had viewers hailing her as an inspiration.
The mum-of-five opened up about the moment she first learned that son Harvey, 14, was blind as a baby and it made for heartbreaking stuff.
Katie Price hits back after followers call her new bum 'vulgar'
'All I can remember is the words, "He's blind,"' Katie, 38, told fellow panellists Ruth Langsford, Jane Moore and Kaye Adams. 'Me and my mum looked at each other like, "What? He can't see?" We were left like, "What do we do?"'
Despite the shock and sadness of this discovery, Katie admits she has always remained strong for Harvey and thinks it has enhanced the bond they share.
'I've actually never cried about the fact he's blind,' she admitted. 'I'm protective of him, he's my baby. We've always had that bond.'
Katie went on to pay tribute to other mums in similar situations and spoke of how she has also received specialist help for Harvey – who suffers from multiple disabilities including autism, ADHD and Prader-Willi syndrome – at Great Ormond Street Hospital.
'From there it's all been good,' the glamour model said. 'It's heartbreaking, but I'd never change him for anything.'
She also urged anyone experiencing anything similar to 'never give up, talk to people, and don't hold it in', adding that Harvey is 'amazing now'.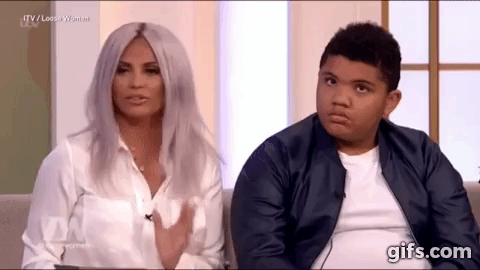 After her moving words Ruth praised Katie's parenting of Harvey, saying that she too is 'amazing', and many viewers seemed to feel the same.
'She's not everyone's cup of tea but listening to @MissKatiePrice talk about Harvey had me in tears, so much love between them!' one fan wrote on Twitter, whilst another admitted: 'Never thought #katieprice would make me teary @loosewomen Your chat about Harvey was inspiring to others in similar situations #believe'
Another said: 'Reduced to tears listening to @MissKatiePrice on @loosewomen talking about Great Ormond St'
Others hailed Katie's words on disability as 'inspirational' and called her an 'incredible mother'.
Well done, Pricey!