But she's still keeping pretty tight-lipped...
After months of rumours, Kim Kardashian has FINALLY broken her silence over claims she and husband, Kanye West are expecting their third child together.
Earlier this week, it was reported the couple have used a surrogate to carry the baby and it's thought the A-List pair were due to welcome a little girl in late January.
Read: All the Latest TV news 
But now it looks like reality star, Kim is ready to have her say – and despite acknowledging the rumours, the mum-of-two is still keeping pretty tight-lipped!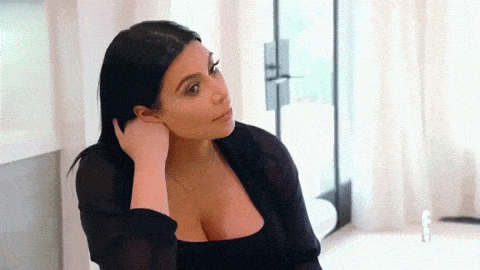 Speaking to E! News on Saturday at New York Fashion Week, the newly blonde 36-year-old said she would discuss her 'third baby' when she was ready.
More: Kim Kardashian and Kanye West 'expecting third baby' – and the sex has already been revealed!
'[There's] so many details out there, and like I've never heard this, I've never heard this,' she explained.
'Like whatever. We have not confirmed it, and that's that. I'll let you know when we're ready.'
Before adding: 'I've definitely seen a lot of things, we've never confirmed anything.'
Good on you, Kim!
According to TMZ, the couple – who are already parents to North, four, and Saint, one – are said to have decided to have a third baby via surrogacy because of Kim's medical issues during her previous pregnancies.
The Keeping Up With The Kardashians star previously suffered life-threatening health complications whilst pregnant including preeclampsia and placenta accreta.
And following the reports it's been claimed by People that sources have confirmed the news, with Kimye and the entire Kardashian clan said to be ecstatic.
'The entire family is over the moon,' an insider said. 'Kim had been looking for a surrogate for months until recently when she found the perfect candidate.
'Given her health scares in the past, Kim felt the need to hire a surrogacy agency that helped serve as the liaison in finding a healthy woman who would be a great surrogate option for her and Kanye. Both of them have been super involved in the process.'
And the TV star hasn't done much to squash the news as she's previously spoken out about her desire to become a mum again revealing back in March: 'I'm going to try to have one more baby. I want my kids to have siblings.'
She explained that she felt the need to 'bring another soul into this world' after she was robbed at gunpoint in her Paris hotel room in October.
So while there's been no official confirmation as of yet, we're VERY excited at the thought of another little Kardashian-West joining the brood.