Oh Marnie, we love you!
'I'm not a slag. I'm not a nun either. I'm probably somewhere in the middle,' Marnie Simpson declared as she entered the Celebrity Big Brother house,
Oh Marnie, this is why we're already backing you to win.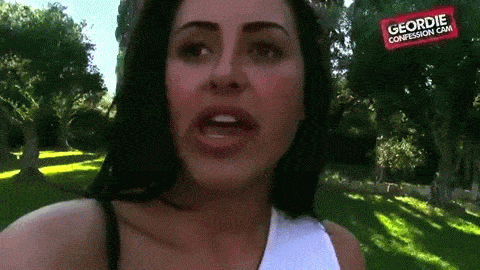 But that wasn't the only bold statement the Geordie Shore lass made as she joined her fellow housemates.
She also made viewers jaws drop when she cheekily said, 'I've got a good bum, good hair and I've probably got the best looking vagina in the whole of Newcastle!'
LOLS!
And by the sound of it, she's not going to be shy when it comes to getting her bits out on TV either.
'I've had sex on TV a few times but I'm not a slag. I'd say I'm quite classy, to be honest.'
And she is keeping her options open!
'I am bisexual, so if there's any good-looking girls in there, I'll definitely be after them, as well as boys.'
She certainly turned a few heads when she came in too. Especially with EastEnder Ricky Norwood, who's eyes nearly popped out of his head! And TOWIE playa Lewis Bloor gave her THOSE eyes and an almighty squeeze as he saw her too.
Her welcome to Stephen Bear seemed a little frosty though. AWKS!
But while she's already proving to be popular, Marnie isn't sure she'll be walking away with the prize money like her co-star Scotty T.
Scotty was crowned the winner back in January and Charlotte Crosby was also victorious in 2013!
'I doubt I'll win,' Marnie said. 'I'm very different to Scott and Charlotte so I don't know if I'm going to win. I'm definitely going to break the rules though,' she said with a smile.
We're also already predicting her and Rennee will either be firm friends or bitter rivals.
'Oh, my, God…you're my twin,' she blurted to Rennee before declaring, 'I need a drink.'
She'd been in the house for less than a minute!
Good on yer, Marnie!
Ooo we can't wait to see how this pans out!
WATCH: MARNIE SIMPSON AND THE GEORDIE SHORE LOT DISH THE DIRT