Celebrating teachers and their hard work all over the world, we look at some of the most iconic teachers in film from the past.
Where would we be today without our teachers? Sure, we might've thought they were the most irritating people in the world when they gave us homework when all we wanted to go was go home and play The Sims.
But deep down, we don't know where we'd be without their patience and putting up with us asking them why we REALLY need to know how to do algebra for the 50th time.
So teachers around the world, here's to you! To celebrate, here are some of our favourite teachers to ever grace our screen and enter our lives…
1.) John Keating in Dead Poet's Society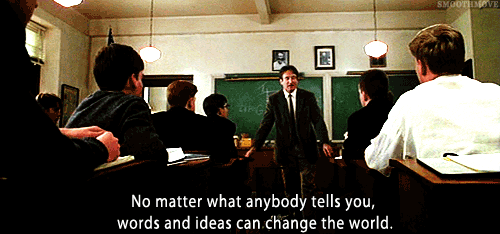 He may not have been your typical teacher, but when Robin Williams made one of the most iconic speeches of all time that inspired us to no end. We still tear up every time that we hear Mr. Keating's words of wisdom.
2.) Miss. Honey in Matilda
Whenever a teacher was off ill and we were awaiting the arrival of the substitute teacher, we had everything crossed that Miss. Honey was going to walk into the classroom. The sweetest teacher that ever was, who else wanted Miss. Honey's lovely, understanding and encouraging demeanor to teach them their times tables? Oh, and we wouldn't know how on earth we'd spell 'difficulty' without with film – all together now! 'Mrs.D, Mrs I, Mrs F-F-I…'
3.) Dewey Finn in School of Rock
Surely one of the coolest teachers we ever did see! All we wanted to do was pick up a guitar and join Jack Black and his band so we could rock out with him. Who needs to know historical dates anyway?
4.) Elizabeth Halsey in Bad Teacher
Probably not the best teacher in terms of, you know, teaching but Cameron Diaz made us LOL all over the cinema as we watched her trying to deal with a hangover on a school night. Sadly, we related to that feeling all too well….
5.) Ms. Norbury in Mean Girls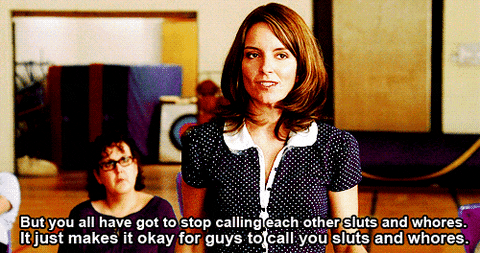 Tina Fey in one of our favourite movies, like, ever, already automatically gives her a space on this list, but she also gave us a crash course lesson on girl-on-girl crime (we would've understood high school would've been SO much more if we watched this film beforehand!) Not only that but she also leads the mathletes team, and we all know that's the coolest team.
Thanks for everything teachers – you'll never know how thankful we are that we can work out how much we're saving in the 30% sale on ASOS.