Hold on to those belle bottom flares… Mamma Mia 2 is a go! We repeat Mamma Mia 2 is a GO!
ABBA fans around the world are rejoicing after several members of the cast have finally confirmed that they are going to be part of the sequel titled Mamma Mia: Here We Go Again.
The latest star to join in the flare flapping fun is 31-year-old star of the original, Amanda Seyfried who will reprise her role as Sophie in the film.
Pierce Brosnan, who played Sam, one of Sophie's mum Donna's former flames in the first film, got film buffs in a twist when he posted this on Instagram…
According to film aficionado website IMDB, the film is due out in July 2018 and confirmed cast so far includes Amanda as Sophie, Pierce as Sam, Meryl Streep as mum Donna and Colin Firth as another of Donna's exes, Harry.
Frankly it could be just those four dancing and singing and we'd be happy!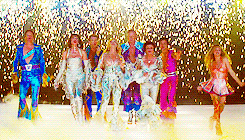 It will be an unbelievable TEN years since the original came out next year, where Amanda sang and danced around the Greek island of Kalokairi trying to work out who her dad was out of Sam, Bill and Harry. And the musical rom-com was left at Sophie and her other half Sky sailing off for an adventure round the world.
There's no news on what the plot is yet, but with ABBA members Benny Andersson and Björn Ulvaeus back on board as executive producers, there will also be plenty of music and lyrics for the new film, and lets face it, there's going to be some absolute classics in there!
The original film took an incredible £460 million at the box office and was the fastest selling DVD on its release. So with just over a year to wait, we reckon it's time to whack that ABBA Greatest Hits album on your iTunes and get your self in the Voulez-mood!