As X Factor's Caroline Flack and Olly Murs interview one another, they reveal they both fancied each other once upon a time

One of our fave things about The X Factor being back in our lives is that we get to see cheeky monkeys Olly Murs and Caroline Flack having a right ol' laugh together as hosts.
Related:
And if those two munchkin's friendship wasn't cute enough, in an interview with Heat magazine, Olly has said that Caroline is the 'perfect girlfriend' and that he thinks all guys look at her that way. Aw!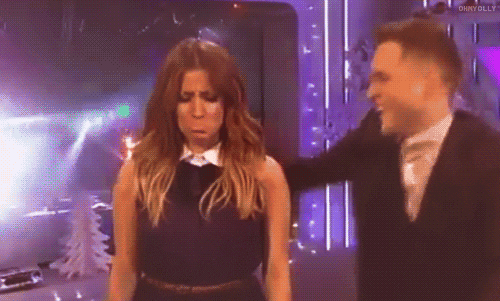 'I used to watch you on I'm a Celebrity…Get Me Out of here Now!, and thought you seemed like a top person.'
We're with Mr.Murs on this one, so here's 5 reasons why he's right and Caroline Flack would be a fab girlfriend…
1.) Dancing shoes
We all saw how amazing the 35-year-old was on last year's Strictly Come Dancing. She was so fab in fact, that her quick feet won her and dance partner Pasha the glitterball trophy, so you know she'll always be up for a boogie if the pair of you went for a night on the tiles.
But with this year's Strictly underway, she already has an inkling of who will take the Strictly crown from her: 'Probably [Peter] Andre. He's going to do quite well isn't he?' Yeah. We think he'll be alright on the night.
2.) Legs Eleven
As if showing off her dance moves on Strictly wasn't enough, she also get THOSE never-ending and luscious legs out ever week in short shorts and swishy skirts aplenty.
3.) Cheers!
Olly said that when he first watched Cazza on screen he thought she was just 'really lovely' and just someone who he could 'go out for a drink and have a laugh with' – and that's our thoughts exactly. Plus, you might not just gain one drinking buddy down the pub, but a whole plethora of them as Caroline might just bring Olly and X Factor judge Nick Grimshaw along with her too. All aboard the banter bus.
4.) Squad goals
As if hanging out with her guy pals wasn't enough, you may even get a special pass to a girls night in with Caz, Cheryl and Rita Ora as they settle down to watch X Factor or a chick flick. Oh, and you never know, Kylie Minogue might be there to – she does love Caroline's hair after all.
'Kylie Minogue came along to this dinner I was at and she goes, "I really like you hair short," and I said, "thanks." But then I was thinking, "How do you know who I am?" I forget we're on the telly.
5.) Car-LOL-ine Flack
Ms. Flack just looks like she's be a right laugh and a half to hang out with doesn't she?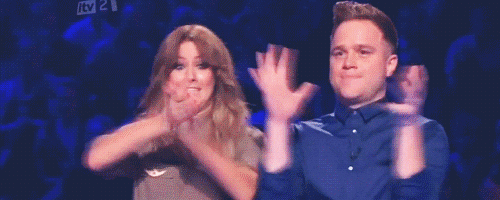 There'd never be a dull moment around the leggy lass!
SEE how the X Factor judging panel has evolved over time…
Amy Lo