The Pirates of The Caribbean star catches a totally adorable moment with son Flynn
Ahhhh! Orlando Bloom is winning even more hearts across the globe after his open expression of love for ex-wife and mother of his 6-year-old son Flynn to celebrate Mother's Day out in the States.
The 40-year-old actor is currently filming S.M.A.R.T Chase out in China, a film about a washed-up private security agent who has to escort a valuable Chinese antique out of Shanghai.
Flynn visited his dad on set where they spent some happy father-son time together, including a very special moment which was captured by Orlando, when his son spotted a lit-up billboard featuring his mum, model Miranda Kerr.
"We came across this billboard in China while he was visiting me on set he loves his mum and what's not to love – she's a wonderful mother a great friend and co parent so blessed and grateful" @mirandakerr#happymothersday
Awwwww, how sweet!
And it seems Orlando's followers loved the cuteness as well, not just from Flynn, but from Orli bigging up Miranda too.
One said 'This is the cutest thing I've seen and it totally makes my day'
With others saying; 'The cutest thing I've ever read' and 'This is so sweet! Flynn has two wonderful parents!'
And it wasn't just his baby mumma he praised. The star made sure he included the other main woman in his life, posting a pic of his own mummy Sonia alongside some, erm, interesting friends…
'Mum is an original one the most authentic people I know pictured here with her friends big ❤️ mum #happymothersday'
It comes as Orlando's latest film Pirates Of The Caribbean: Dead Men Tell No Tales is released on 26 May and the star has recently revealed that he's been busy showing Flynn some of his old POTC films.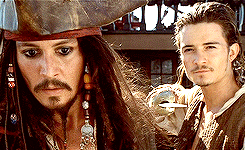 'I was wary of showing [the past films to Flynn], but getting older and going to school, kids started to talk about it, I wanted to introduce him to films before anyone else,' the star told This Morning presenters Holly Willoughby and Philip Schofield.
He also revealed he thinks this latest instalment is going to be the best. 'I think this film, with the special and visual effects, which we didn't have before, is some of the best entertainment ever. There are a couple of surprises and fun appearances,'
Yo ho ho – thar he blows!