Judges of The Great British Bake-Off Mary Berry and Paul Hollywood have been known to sell-out clothes and sell expensive bread!
The almighty day has finally arrived – The Great British Bake Off is back on our screens and in our lives tonight!
We've got weeks of soggy bottoms, sticky buns and hot baps to come, and we've never been more ready for it.
But the Bake-Off would be nothing without the dynamic duo of judges that are Paul Hollywood and Mary Berry.
As well as being the master baker and glammest grandma in the country, there's some things about this pair that might just surprise you and be the icing on the cake to make you love them ever more…
1.) Great British Rave Off
Think 80-year-old Mary Berry spends her time out of the Bake Off tent drinking tea and knitting? Nop. She's off raving and slamming down tequila shots! While on Alan Carr's Chatty Man, presenters Mel and Sue revealed that Britain's grooviest gran was turning up to the club in Ibiza at 1am, at the age of 71! Sue Perkins revealed that she was off to Ibiza, to which Mez Bez replied saying: 'Oh, I went to Ibiza darling. I went to somewhere called Pacha.' YES Mezza B!
And if you think she's just there for a boogie, you couldn't be more wrong. Apparently, shots isn't just saved for when you want to make bad decisions at the bar, as Sue continues and said that after a lovely cast dinner, Mary started on the tequila slammers! 'There was no gurning, no facial reaction, it was just [mimes downing shot], next one.' Whatta gal!
2.) Paul and Mel sitting in a tree
GBBO isn't the only programme you can catch 49-year-old Paul Hollywood and host Mel Giedroyc on the ol' tellybox. The pair featured on CBBC children's TV series, Sadie J. Mel puts on a, erm, questionable accent for somewhere European we guess, while Paul plays her doting boyfriend. We've got to say, it's pretty odd but will give you a tea-break giggle!
3.) Keep calm and carry on
Mary Berry may be the cheeriest lady thing to enter our lives since cherry-topped Bakewell tarts, but her past hasn't been as glitzy as her career is now. She actually suffers from a permanently twisted spine, a thinner left arm and weaker left hand, after contracting polio when she was just 13-years-old and spent three months in hospital. Her son William also sadly died in a car accident when he was only 19-years-old, but Mary says events like these have given her a thicker skin and force her to make the most of every opportunity.
4.) Luxury loaf
We all know that Paul is the King when it comes all things bread and bagels, so it's probably not that surprising that the baker is responsible for creating the most expensive bread in Britain back in 2008. An almond and Roquefort sourdough….sorry, we just had to mop up all the drooling we did there. It may sound delicious, but with it selling at £15 a loaf at Harrods, we think we'll stick with a Seeded Batch from good ol' Warburtons, which Paul has confessed is his fave brand of sliced bread. Well, if it's good enough for Mr.Hollywood!
5.) Walk, walk, fashion baby
Now, we all know that Mary dresses better as a 80-year-old than most of us probably do on a weekday as we rush to work. So much so though that she's been responsible for selling out items on the high-street before that she wore on the show. This bangin' bomber jacket that she wore from Marks and Spencers sold out within an hour of her wearing it on the BBC show, and back in 2012, a £29.99 floral jacket from Zara that she wore sold out and some were even auctioned on eBay for up to £200!
6.) Cops or crossiants
Although Paul Hollywood can knead and work a dough like no other, life would've been very different if he didn't become a baker. He said that despite having studied sculpture at the Wallasey School of Art, he would've chosen a career in the police force. 'I'd have been a traffic cop – a nasty one hiding behind a bridge trying to catch people.' Oh sneaky – keep an eye out near any bridges people!
7.) Breaking Berry
We imagine that Mary Berry likes to wind down from a day of filming by putting her feet up on the sofa and watching a nice episode of Countryfile or indulge in some Antiques Roadshow. But no, Berry actually likes to watch in some brilliant Breaking Bad with presenters Mel and Sue while on-set. 'You get into it and you think: 'Have I seen episode four or five?' We know the feeling Mary. Well, the show IS about cooking we suppose…
Right, Mary and Paul – get the tequilas in for tonight's first episode! We'll bring the Warburtons!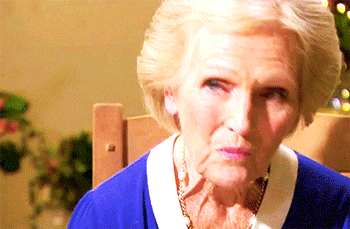 Find out ALL about this year's contestants before the series starts tonight…
Amy Lo