Nickelodeon launch new channel, The Splat, which will just show classic 90s shows including The Rugrats and Hey Arnold!
I love the 90s. Like. A LOT. So much so that 15 years on, I'm still wearing chokers and wear Kickers shoes to work.
So when it was revealed that Nickelodeon – home of the 90s – is set to launch a channel that is filled with nothing but classic shows from the my childhood, I was jumping for nostalgic joy.
READ MORE TV NEWS HERE

There's been little teases from the channel for a while, with an Twitter account called The Splat. The account was originally used to promote reruns of programmes from days gone by, but they recently released a new trailer of lots of classic cartoons mashed up together. EX-CIT-ED.
And here are 7 reasons why The Splat is going to be the best thing to enter our lives since the Mayfair filter on Instagram:
1.) Debbie Thornberry's style
Who else's whole body just ACHED over how damn cool Debbie Thornberry was in The Wild Thornberrys? Not only did she not give a monkeys about what anyone else thought and just did her own thing being the baddest gal around, but she also did it in the BEST style. The ripped jeans. The crop top. The checked overshirt. The sassy deep side-parted hair that probably meant half of her vision was covered up but it didn't matter because she looked oh-so-good. Cara D, eat your heart out – Debs' our new style inspo.
2.) "Move it football head!"
You get to shout this phrase out loud again, so really, all is right in the world again (it's going to be our go-to insult from now on). Not to mention that we also get to jam along to the jazzy theme theme tune of Hey Arnold! again – don't tell us you won't be as well.
3.) Rugrats realness

You may think The Rugrats was just a show about a bunch of babies and their daily playdates, but how wrong you were. That show actually hit the nail on the head on some of life's biggest struggles and problems we all deal with – who knew? Looking back now, sometimes it was a bit TOO painfully real…
4.) Pickles power
Oh, speaking of The Rugrats, there's not a more powerful, pretty and perfect wonder-mum out there in toon land than Angelica's mum, Charlotte Pickles. She kinda gave us our first taste in feminism, ran their family, always wanted to give her daughter the best, and worked a power suit and high pony as hard as she worked in actual work. You go girl!
5.) Catdog confusion
Sure we laughed at the antics that a creature that was both cat AND dog got up to. But really, we're just a bit confused about the logistics of all this. We mean…the food goes in, but where does it come back out…. Probably best just to not think about it.
6.) Racous Ren and Stimpy
Yes it was a bit gross. Yes it was a bit crude. But for some reason we just couldn't stop watching it and laughing at how weird Ren and Stimpy actually was – we can't wait to be grossed out again.
7.) Childhood restored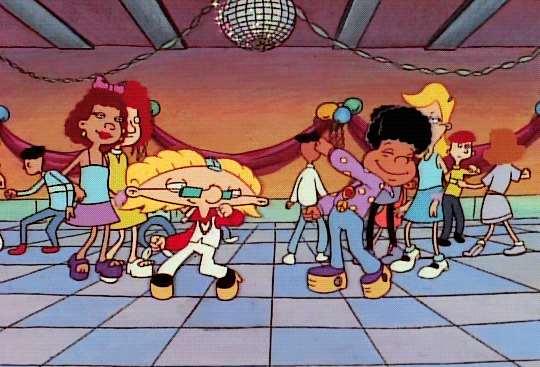 Oh, and the best thing of course, is that we get to relive our childhood all over again! *celebratory dance* After a long day at work stressing about deadlines and avoiding awkward silences in the lift with colleagues, you get to come home and pretend you're a kid again, when life was a LOT more simple. This channel's going to hit us right in the nostalgic feels!
While no date has been announced of when the channel will be launched, a website's been set up, which just ominously says that the #TheSplatIsComing – hold on tight kids!
Amy Lo