FriendsFest is coming to the UK and we can't wait to drink coffee in Central Perk and play table football in Joey's apartment!
Is your job a joke? Are you broke? If your love life's D.O.A? Yeah, us too.
But never fear! Our favourite Friends are here for us!
FriendsFest – yes, you've guessed it, a festival ALL about Friends! – is coming to London at the end of September and we cannot wait!
For five days only, from Wednesday 16th – Sunday 20th September, Comedy Central UK will be re-building everyone's fave New York apartment in Brick Lane and not only will there be a full-on set of Monica's apartment for you to take as many selfies until your heart's content, but there's also LOADS of other fun extras for fans.
There'll be original props and memorabilia for you to snap away at, you can get a classic 'Rachel' blow-dry at the salon, pose in front of the infamous fountain, and of course, have a cup of coffee at Central Perk.
Seriously, we can't quite contain our excitement.
This is like a dream come true for any Friends fan – and let's face it, who isn't?! So as well as playing table football to our heart's content, here's all the things on our list that we'll be doing when we step foot onto that set…
1.) Avoiding meat trifle in the kitchen
As much as we love Rachel and her stylish ways, we definitely do not want to be dining on a dish made up of minced meat, lady fingers, peas and whipped cream. We'll stick to the coffee thanks
2.)  Help Ross move his sofa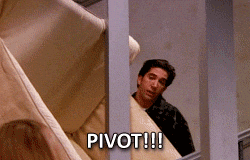 We may not be world's strongest man, but we're sure we can be of more help than Chandler was. Just got to remember to PIVOT.
3.) Check out Monica's cleaning
All these years banging on about how clean her home is, now we can see if Monica's house really is that spotless (and find out what exactly is in the special cleaner that she makes herself!)
4.) Listen to Pheobe play Smelly Cat

http://www.youtube.com/watch?v=W7jlGRq8xZ4
We're sure the classic tune will be on repeat and we'll be drinking a nice cup of hot mock-o-late while swaying along
5.) Spy on Ugly Naked Guy
WE'RE JUST SO INTRIGUED! We feel like we've known this man all our lives and yet we have no idea what he looks like. We HAVE to know.
6.) Try and beat Chandler's top score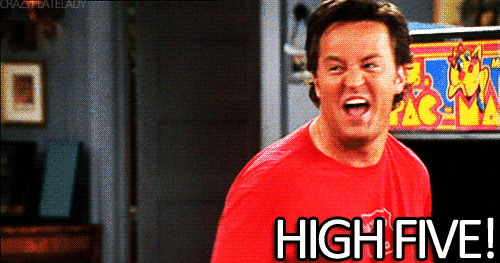 Hours playing Ms.Pac Man may have given him 'The Claw' but we're determined to be top of that leaderboard!
7.) Sit in Joey's Laz-e-boy chair
We can't wait for the comfort we'll experience on those bad boys, and we promise that we won't break it. Pinky promise.
8.)  Run around the set and pinching ourselves
Is this real life? Are you actually here?! Hopefully, we won't be doing this while having our head stuck inside a turkey…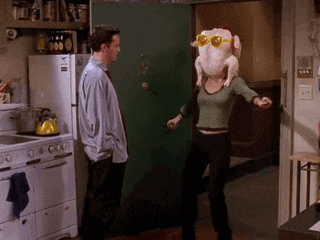 You can get tickets for Comedy Central's FriendsFest from today – so grab yours NOW!
Right, we're ready to clap along to the theme song! All together now…
Find out ALL that happened at Friends star Jennifer Aniston's wedding!
Amy Lo